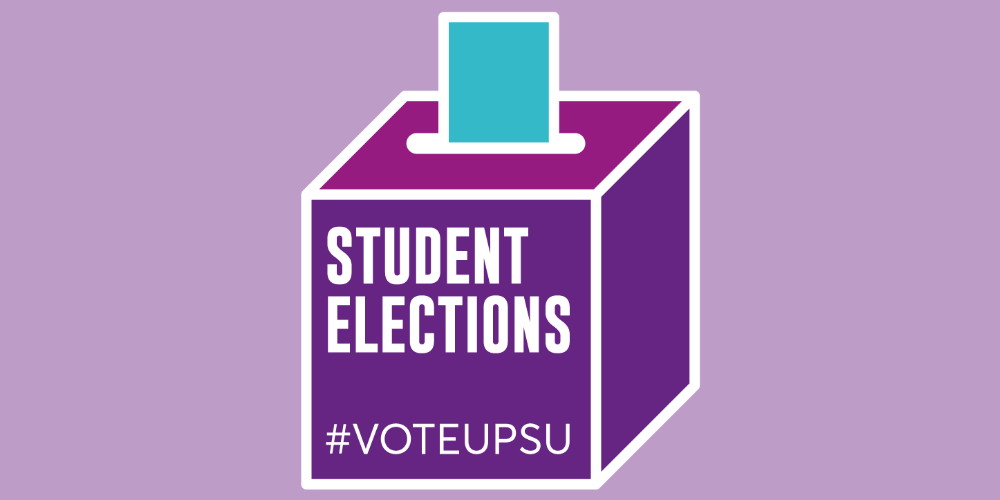 Info about Student Elections
You can now nominate yourself in the 2023 Student Elections! Head to the 2023 Elections page to take a look at the roles and start the nominations process!
How much do you know about the elections? 🗳️
Be honest with yourself - Do you know what Elections are or what an Elected Officer does? You may already know quite a lot, or you might know nothing at all but either way, we expect that you have questions. Not everything you hear or think you know is always right so let's find out more!
So, what are Elections? 🗳️
The democratic process where students (that's you!) vote for the people that will help run The Union and represent the student body for the coming year.
Who can run? 🗳️
Any student studying a course at the University of Portsmouth can run in the elections including postgraduate, international and part-time students. Any Elected Officer will be expected to uphold the Students' Union values and fairly represent the whole student body.
What's in it for me? 🗳️
As a full-time Elected Officer this is your chance to improve the experience of students, develop lots of new skills and become more employable all while helping to lead a million-pound business!
Training in key skills is provided but you will need to be passionate about the work of the Students' Union and enhancing the student experience here at the University of Portsmouth.
That all sounds good - How do I get started? 🗳️
Nominations open on Monday the 23rd of January and close on Friday the 24th of February so you have plenty of time to nominate yourself! Head to www.upsu.net.elections to take a look at the roles and start the nomination process!
Single Transferable Voting Explained
Our friends at Lincoln SU have created this short video that explains how STV (single transferable voting works). Note that we use the term No Suitable Candidate rather than Re-Open Nominations (RON) here at Portsmouth SU.
Thinking of running? Check out our Candidate Handbook! ⬇️
What's so great about being an Elected Officer? Find out more from one of our previous Officers! 🎥
Page created: Tue, 15 Nov 2022 16:37:56 GMT
Page updated: Mon, 20 Mar 2023 16:46:06 GMT