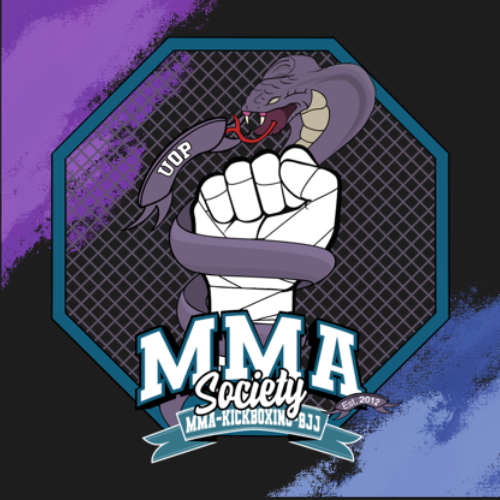 Kickboxing, BJJ and MMA Club
Sport
About
Kickboxing, BJJ and MMA Club
About us
UPSU Kickboxing, MMA & BJJ is one of the largest and most active societies in the Athletic union with over 200 members last academic year. We host weekly training sessions and weekly socials. Kickboxing, MMA and BJJ are great ways to exercise as they're fun, interesting, and effective.
We train out of Gym01 based in Fratton. Gym01 is one of the best martial arts gyms in the country and especially the south. Active members include ex UFC fighter Phil Harris and BAMMA fighters Cameron Hardy and Michael D'Aguiar. Gym01 has a very friendly atmosphere and everyone is willing to help everyone out, no matter what your level. Our fully qualified coaches Adam, Emmeline and Michael originally started off as part of the university team, they started where you are now seven years ago and Ollie currently holds the Flyweight Championship belt for on top promotion in Scotland. Henry our BJJ coach is a purple belt and fully qualified personal trainer who is FMS certified.
Our membership currently stands at a £30 joining fee, via the union website. This lasts the whole academic year and includes a free t-shirt with our team logo available in most sizes. Members will also need to pay £7.50 for each session they attend if they don't already have a Gym01 membership. There's also an option to get a discount by paying for sessions upfront per term or year.
Training Sessions:
Our sessions consist of a variety of discipline specific exercises including fitness, flexibility, technical drills and some fun and games! When experienced enough, there is also a chance to technical spar with your teammates, to put the techniques you have learnt into practice and see where they fit in within a fight.
All fitness levels are welcome. Please see our Facebook and Instagram page for information about taster sessions, dates coming soon on both platforms.
A lot of people are worried about coming to a martial arts class but there's nothing to worry about. Nobody will make you do anything you don't feel comfortable with. If someone is too aggressive or has too big of an ego and they do not calm down when asked they get kicked out. Simple as that. We don't tolerate egos. 
Our session times: 
Monday:
 strength and conditioning 18:00 - 19:00 (meeting room 1, student union)
Wednesday:
BJJ 12:00 - 13:30
Kickboxing 13:45 - 15:15
MMA 15:30 - 16:30
Friday:
Women's only kickboxing 12:30 - 13:30
Sparring 15:00-4:00
Opportunities:
For those looking for something to work towards to or to progress their training, there are plenty of opportunities to compete in inter-clubs and against other universities. We also have a good relationship with the Portsmouth based fight promotion Shock and Awe with club members fighting on their main show as well as their amateur contenders show. You can watch videos of members and ex-members fighting on this show in the link below:
https://www.youtube.com/playlist?list=PLED9d2UStP3NXhsjdIw6uGZMoEsvSwbvF
If you don't wish to compete but are interested in working on your technique, understanding and fitness we offer grading where you can aim towards achieving a coloured belt from yellow to black. It's a great way to see how far you've progressed.
Any questions please don't hesitate to contact us on our social medias or by email - kickboxing@upsu.net
Full Membership (168)
Full Annual Membership until 1 August, 2024
Committee Membership 5010/168
Committee Membership 23/24