I am a Course Rep
Empowering the student voice
Welcome Course Reps!
Welcome to your dedicated Course Rep page!
Here you can find all the information and links you need to be able to make change and thrive in your role as a Course Rep this year!
You're part of the Course Rep Team!
What are Faculty Reps
Faculty Representatives are selected by members of their faculty to ensure that their students' academic interests are represented. Faculty Representatives are also voluntary positions.
Faculty Reps will work with Course Reps in their faculty to make sure the student voice is heard and acted upon.
The faculty reps can be reached by emailing facultyreps@upsu.net
We are currently looking for Faculty Reps, to find out more information visit the UPSU website.
You're invited to Rep Con!
Every year the Union runs a Course Rep training event called Rep Con, here you'll learn all about your role, gain new skills and meet other Course Reps from across the University.
This year we are offering five separate Rep Con events, one per faculty.
Faculty of Technology - 11th October 2023
Science and Health - 12th October 2023
Health and Social Sciences - 16th October 2023
Creative and Cultural Industries - 18th October 2023
Business and Law - 19th October 2023
Once you have completed your induction you will be able to sign up for tickets.
Rep Con 2023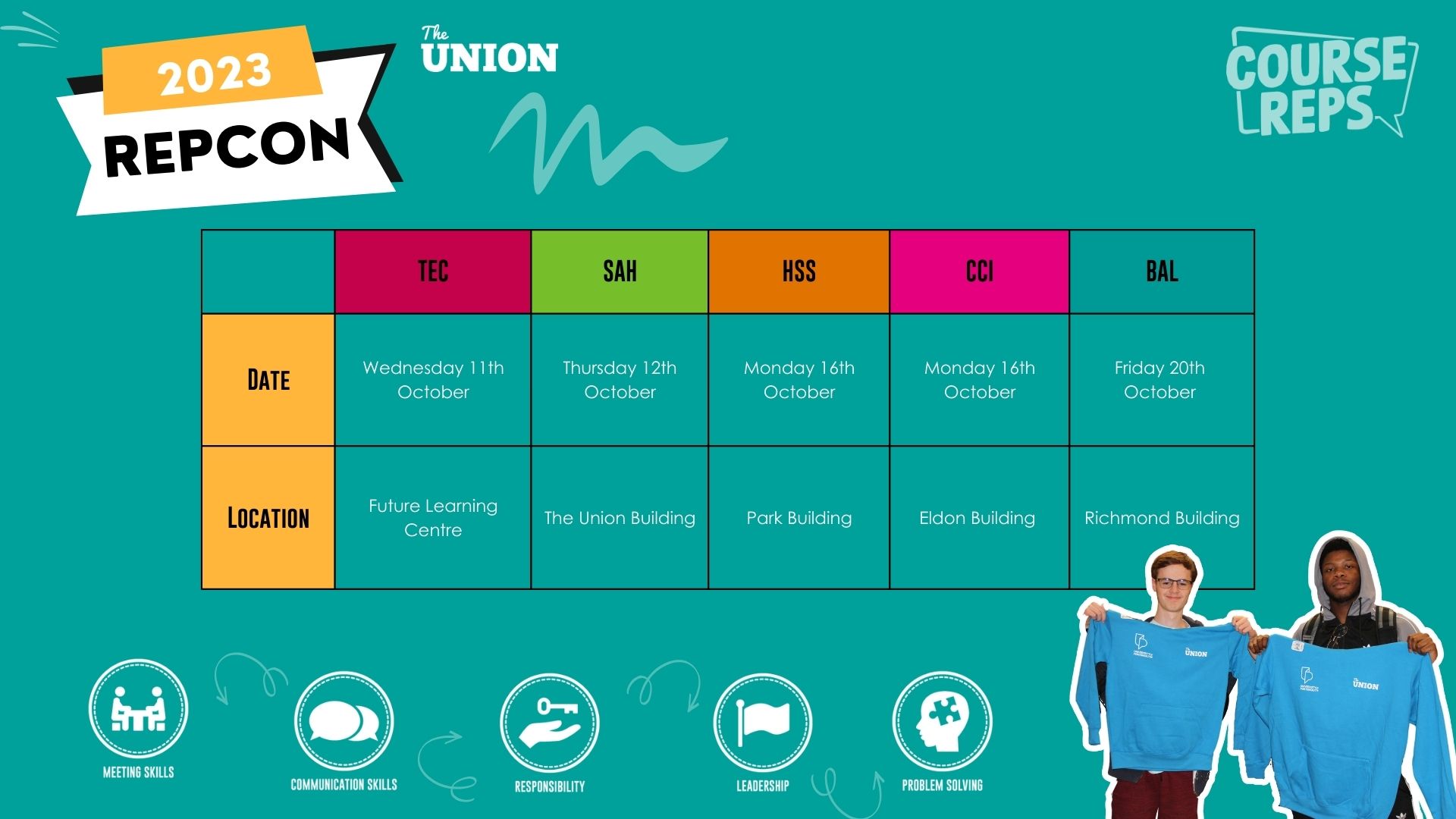 Who are Student Voice Assistants?
Student Voice Assistants (SVAs) are here to support you!
SVAs are paid student staff that work part-time with the Union's Representation Team to make sure you have support you need in your role as Course Rep.
There are 23 Student Voice Assistants, they are allocated one per school and will work with all Course Reps in the school, as well as University and Union staff.
Your school will have an SVA assigned to support you, they will reach out to you at the start of your term as a Course Rep to introduce themselves.
SVAs can help with:
Meeting support
Feedback gathering
Training and development opportunities
Supporting you will challenges or queries
Acting as a link with UoP staff
If you have any questions about Student Voice Assistants, please email representation@upsu.net
Who are Elected Officers?
Elected Officers are Students that have been elected into full-time Officer roles by students.
The Elected Officers (EOs) are all representatives of the student voice. This means that the EOs speak on behalf of students at the University of Portsmouth at the highest level internal and external meetings to guarantee students are always being heard.
Each Elected Officer is responsible for a particular area of the Union. The Academic Representation Officer is responsible for leading the Course Reps and will work closely with you throughout the year to make change at the University of Portsmouth.
To find out more about the Elected Officers, check out their webpage.
Your Elected Officer Team 23/24
Key Contacts for Course Reps
As a Course Rep you may need to know different staff members from across the University and Union, you can find out how to contact them below.
Associate Dean (Students) for Humanities and Social Sciences - Mary Williams
Associate Dean (Students) for Science and Health - Kirsten Farrell
Associate Dean (Students) for Business and Law - Zoe Dann
Associate Dean (Students) for Creative and Cultural Industries - Simon Brookes
Associate Dean (Students) for the Faculty of Technology - Lee Woods